Unique Context = Unique Opportunities
Atlantis alumni are some of the few applicants to medical school who have experienced a non-American healthcare system that is also in a developed country, meaning it serves demographics, health conditions, ages, etc. that are similar to the U.S. This unique shadowing experience gives Atlantis alumni an amazing opportunity to do unique projects on their own initiative post-program, projects made possible precisely because our alumni are some of the very few people with direct connections on both sides of the high resource world's healthcare system: that of the U.S. and that of Europe.
The Essence of Healthcare in The U.S. and Europe Is the Same, but With Cultural Differences — Making Europe the Ideal Place for U.S. Students to Shadow, Since It Is Both Realistic (for Your Future) While Also Allowing You to Build Cultural Competence (1 of The 15 AAMC Competencies)
U.S. Hospital
European Hospital
Low-to-Middle-Income

Country (LMIC) Hospital

Population
Health
Conditions
High
High
Low
Technology
Level
High
High
Low
Complexity
of Regulatory
Environment
High
High
Low
Complexity
of Healthcare
Processes
High
High
Low
Degree
of Hospital
Specialization
High
High
Low
Cultural
Perspective
Unique
Unique
Unique
Europeans Have Higher Life Expectancies
Yet Spend Far Less on Healthcare
Atlantis doesn't help with Uniqueness Projects. This is the sort of thing that only works with personal initiative. What we do is we focus on making your program great, knowing that there will be opportunities for taking initiative. But we leave these entirely in your hands. We only want to do something if we can do it well, and Uniqueness Projects are the sort of thing where if we give you great help, but you only do a good job at it, the result won't be great; on the other hand, if you do a great job, you don't need our help. We do provide you examples here on this page, which is often an essential starting point, since often students don't think of these on their own.
Note that these are most often done after the program ends. Keep in mind that most of our alumni do not do something like this, and doing so requires a lot of initiative, common sense, and above all a desire to contribute in some way to medicine and healthcare. We do believe, however, that the impact of these initiatives can be quite large on both (a)the healthcare community as well as on (b)the success of your medical school applications. The first question you should be asking yourself as you look for opportunities is this: in my unique position as one of the few people that has experienced both U.S. and European healthcare and its institutions, how can I serve? How can I contribute to the healthcare community? What institutions or people that I now know (on both sides of the Atlantic) could be linked because of my initiative, in a way that would be beneficial for everyone? Don't think of things that would just be extra work for people, think of things that would help.
We have seen alumni do many unique projects after shadowing abroad with us, and these unique projects allow them to show to admissions committees three things that can be hard to show uniquely: passion for medicine, commitment to service, and cross-cultural problem solving. Above all keep in mind that any initiatives you build that are particularly unique and entrepreneurial are likely good examples to illustrate "capacity for improvement," one of the AAMC's 15 competencies that medical schools use to evaluate applicants. 
Example Projects
Below are examples of projects that students can do on their own, that have social impact, and that we believe might contribute to the AAMC's "Capacity for Improvement" competency that is used in medical school admissions, depending on your own situation. Very few American pre-meds have such distinctive opportunities, which is no surprise given how few have experienced other sophisticated healthcare environments outside the U.S. When you look at the list below, notice how many of the ideas below would not be possible without having experience in a foreign developed country, or at least are much less impactful without that element. Keep in mind that the below are hard, and require a lot of responsibility and dedication, and you should decide, on your own, whether you have it. And whenever applicable, abide by any ethical or other rules, and always start with the question "how can I serve the healthcare community?" Our alumni can do a great job at these or similar projects:
Hosting a visit of European medical students in your city in the U.S., in a way that is safe and well-organized
Organizing a small collaboration between your university's medical school (if there is one) (even when you are an undergrad) and a medical school in Europe
Helping a senior physician whom you meet while abroad to turn a research project into a poster for a conference
Ghostwriting (to the extent ethically allowed by the discipline you are writing in) and book translation for a medical academic researcher whom you meet in a hospital abroad
Writing an article for your student paper to educate your peers on the differences between European and U.S. healthcare, with the many pros and cons of each
Organize a conference at your university on the many pros and cons of European vs.U.S. healthcare, seeking funding to invite some of the people you met in Europe as speakers (if planned in advance and well, this is likely less costly than may appear)
Participate in research with someone you met at the hospital (see example below)
And many others!
Real-Life Example
Here's a specific example of one of our alumni (Siobana N., Atlantis '19, Emory University '21), who worked independently on research with a healthcare entity in Europe. Siobana met Dr. Gasparri, one of the principal authors of the paper, while shadowing in the Breast Surgery field in Milan. This article was published on New Frontiers in Breast Surgical Oncology.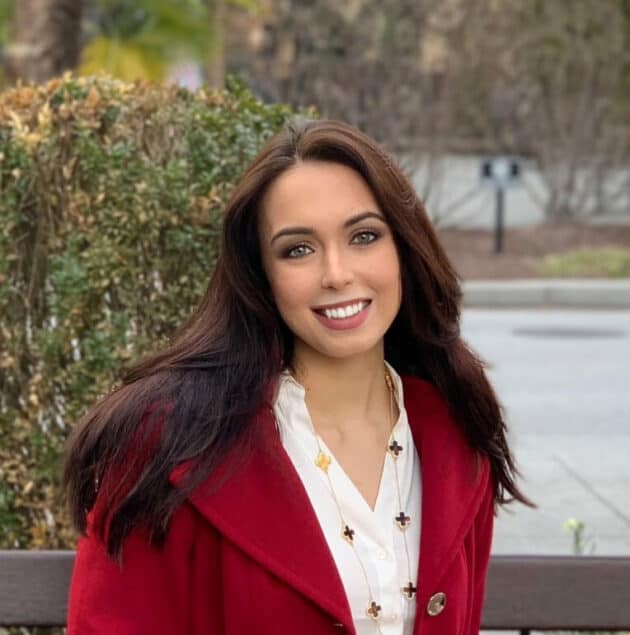 Note On Letters of Recommendation
Although we don't call the situation of our students asking for letters of recommendation from doctors in our programs an example of a Uniqueness Project, it is related to it. And that's because letters of recommendation are also opportunities that are possibly valuable precisely because they arise from the fact that our students are some of the few that have experienced the other type of high-resource healthcare available in the world: the single-payer system that is available in Europe and beyond.
With that in mind, consider asking for a letter of recommendation from someone you meet in your host hospital, being sure that you know them well enough to ask. Atlantis alumni find these letters to be helpful, since they are very unique and are rarely found in medical/PA school applications, and since these letters can complement an Atlantis experience well. That said, we discourage you from asking a letter to someone you don't know well. As you've known for years, letters need to come from people who know you well. Whether that is the case during your Atlantis program depends on the program in question, but also on your own particular situation and the other letter writers you believe you already plan to ask to write you a letter.
Watch Video: 20+ Alumni Now In Med School Explain: Atlantis Is a Major Reason I Got In Here
On videos made on their phones, alumni explain why Atlantis helped them get in to their programs. These are alumni in MD, DO, PA, and other programs, but across all of them you will see a theme: Atlantis can clearly play a large role in interviews, across several degree types. You'll also notice that the impact often comes from Atlantis alumni having a unique perspective on a uniquely different healthcare system. The videos speak about the shadowing experience and not about Uniqueness Projects, but the same theme applies to both.